Quality Control
MCPL has employed a wide range of testing equipment necessary for meeting the stringent quality requirements of the global auto industry. Statistical Process Control Techniques are used to ensure minimum product variation with the main motto of "Zero Defect Supplies". "Everyday Quality" is practiced through all stages and across all processes in the organization to fulfill this motto. The following inspection capabilities exist at MCPL:
Surface roughness measurement.
Optical Electronic Profile Projector.
Air-Electronic gaging systems.
Special Purpose gages for in-process inspection by operators.
Optical Microscope with online Metallographic Analysis.
Micro hardness Tester.
Rockwell Hardness Tester.
State of-the-art sample preparation.
Quality Policy
We shall develop, produce & supply machined, heat treated & finished auto components meeting customer's requirement in respect of quality, delivery and cost with focus on reduction of waste and product variation by continual improvement in process, system and performance.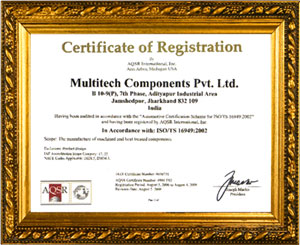 Quality Systems
We are committed to an ongoing quality improvement philosophy of continuously endeavoring to be at par with world standards. The company has developed a quality system in line with ISO/TS 16949:2002 and is proud to be certified to this quality standard. Our goal is to achieve Six Sigma by the year 2009.
Frequently Asked Questions